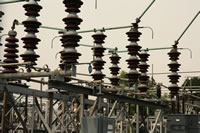 The electricity supply will be interrupted to consumers supplied by the Makana Municipality in  Grahamstown from 08h00 to 17h00 on Sunday 23 July 2013, weather permitting. The purpose of the interruption is for the Makana Municipality contractor to carryout maintenance at the Sugarloaf substation.
The boundaries of the outage are as follows:
In the North – Outlands North, Somerset Heights, Oatland
In the South – Hills View, Sunny side
In the East –  Currie park, Lavender, Irving Heights, Ghost Town, Scott Farm
In the West – Cradock Heights, Hill 60, West Hill
This outage includes the following: Howeison Poort pump station, Salem cross, Mountain Drive, Grahamstown Correctional Centre, industrial area, Military base,  Stones hill Strawen   farm and mine, Rhodes University, Settlers Hospital, Joza and Fingo village.