08 DECEMBER 2022
MAKANA LM EXECUTIVE MAYOR DONATES SOCCER BALLS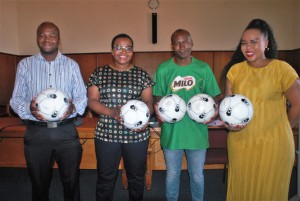 Makana Local Municipality Executive Mayor Cllr Yandiswa Vara, donated soccer balls to the Makana Local Football Association (Makana LFA) during an introductory meeting with members of its committee on Wednesday, 07 December 2022.
The Executive Mayor donated five soccer balls as a token of appreciation to the Makana LFA for the good community work it does.
The Executive Mayor encouraged the association to continue with the great work it does.
Members of the committee who accepted the donation were Mr Afika Adam (Chairperson), Mr Akhona Heshu (General Secretary) and Ms Anelisa Bentele (Treasurer).
The banded soccer balls were given to the Municipality by the Makana Testing Station as part of their marketing campaign, during the opening of the new vehicle testing station.
Issued by the Makana Municipality Communications Office.