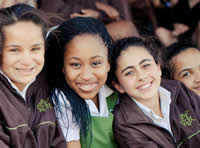 Apart from its natural, historical and cultural attractions, Makana is also one of South Africa 's premier educational centres with a large number of world-class secondary and tertiary educational institutions.
These are spread around the area and include famous establishments such as Rhodes University , Kingswood College, Diocesan School for Girls, St Andrews College, Victoria Girls High School and Graeme College.
Rhodes University – This University was founded in 1904 as an offshoot of St Andrews College. The campus is the most attractive in South Africa and has a very sound academic reputation. It is also well known for its important research projects in many different fields.
Below are links to some of the educational institutions in area: