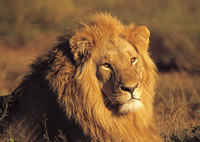 Game Reserves, Nature and Adventure
The Frontier Country originally boasted herds of game that rivaled all others. The region's climatic diversity also meant that a great range of game existed in the many varied biomes compacted into a relatively small area. Unfortunately, after the arrival of European hunters, a large proportion of the game was shot out, and it was only with the beginning of the conservation ethic in the mid-twentieth century that the situation was reversed and the wildlife of the area made a strong natural comeback. Today Frontier Country is still the only place in Africa where one can view the big five in an environment free of malaria, bilharzia and other tropical diseases and in their natural habitat.
The area now has nearly a million hectares devoted to game. A range of public and private nature reserves span the area, from the world famous Shamwari in the west to the magnificent Double Drift and Kwandwe reservesin the east.
The combined nature reserves of Frontier Country and the Sunshine Coast have more biomes, (vegetation types) than any comparable place in Africa.
Pumba Game Reserve
Tel: 046 6032000
e-mail respumba@pehotels.co.za
Kwantu Private Game Reserve
Tel: 042 2031400
e-mail shakira@kantu.co.za
Kwandwe Game Reserve
Tel: 046 6033400
Kariega Game Reserve
Tel: 046 6367904
Sibuya Game Reserve and Tented Camps
Tel: 046 6481040