Latest News

11. Apr 2018

0
...Motorists are asked to plan their trips accordingly, consider alternative routes and to use caution when making use of the road...
Makana Overview
WELCOME TO MAKANA
The Makana Municipality is located in the Eastern Cape Province on the south eastern seaboard of South Africa and in the western part of the Eastern Cape Province falling under the Cacadu District Municipality.
With the cities of Port Elizabeth 120km to the west and East London 180 km to the east, Makana Municipality is strategically situated between two of the province's largest industrial centres. Both coastal cities are served by well-equipped container ports and have major airports linking them to Cape Town, Durban and Johannesburg. It is the home of the National Arts Festival and the seat of Rhodes University and other prominent and internationally acclaimed primary and high schools which are found in Grahamstown.
Makana Municipality consists of 14 wards in which 3 are found in the rural areas of the Municipality.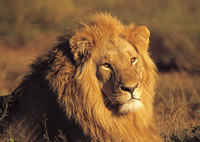 GAME RESERVES, NATURE AND ADVENTURE
The Frontier Country originally boasted herds of game that rivaled all others. The region's climatic diversity also meant that a great range of game existed in the many varied biomes compacted into a relatively small area. Unfortunately, after the arrival of European hunters, a large proportion of the game was shot out, and it was only with the beginning of the conservation ethic in the mid-twentieth century that the situation was reversed and the wildlife of the area made a strong natural comeback. Today Frontier Country is still the only place in Africa where one can view the big five in an environment free of malaria, bilharzia and other tropical diseases and in their natural habitat.
The area now has nearly a million hectares devoted to game. A range of public and private nature reserves span the area, from the world famous Shamwari in the west to the magnificent Double Drift and Kwandwe reservesin the east.
The combined nature reserves of Frontier Country and the Sunshine Coast have more biomes, (vegetation types) than any comparable place in Africa.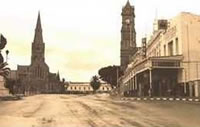 WHY THE MUNICIPALITY IS NAMED AFTER MAKANA
Makana (also spelt Makanda by his descendants) is most noted as the Xhosa warrior and prophet who led a massive attack against the British garrison at Grahamstown in 1819. Born near the coast in the Uitenhage area, in his youth he heard the gospel message preached by the first missionary in the area, Dr Johannes van der Kemp.
Although probably part of the forced expulsion of 20 000 amaXhosa from the area in 1812, he maintained an interest in Christianity and the ways of the colonizers. He visited Grahamstown on several occasions to quiz both the army chaplain and officers about their beliefs and practices. They remembered him as posing difficult and challenging questions.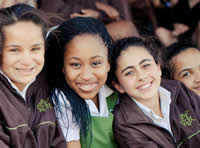 EDUCATION - ONE OF OUR BIGGEST INDUSTRIES
Apart from its natural, historical and cultural attractions, Makana is also one of South Africa 's premier educational centres with a large number of world-class secondary and tertiary educational institutions.
These are spread around the area and include famous establishments such as Rhodes University , Kingswood College, Diocesan School for Girls, St Andrews College, Victoria Girls High School and Graeme College.
Rhodes University - This University was founded in 1904 as an offshoot of St Andrews College. The campus is the most attractive in South Africa and has a very sound academic reputation. It is also well known for its important research projects in many different fields.
List of all schools in Grahamstown
List of all schools in Grahamstown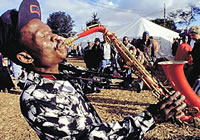 FESTIVALS
Along with its beauty, diversity, nature and history, Makana is also one of the premier cultural centres in Southern Africa. Throughout the year, a series of events attract thousands of people from around South Africa and abroad.
SASOL SCIFEST
The Sasol Festival of Science, Engineering and Technology, popularly called Sasol Scifest, is especially designed to make science accessible in a fun way.
THE NATIONAL ARTS FESTIVAL
Every July the National Arts Festival transforms the tranquil city of Grahamstown into a boisterous, bubbling platform for the performing and visual arts. Dancers, singers, musicians, actors, writers and poets and thousands of festival-goers converge to celebrate the arts.
THE STANDARD BANK NATIONAL SCHOOLS' FESTIVAL
An artistic celebration for grade twelve learners and their teachers, who come together for five days to participate, within a non-competitive and professionally supervised environment, in dynamic hands-on workshops, and to share in and enjoy a variety of challenging and thought-provoking lectures and shows, all presented by people who have the ability to motivate and inspire young people.
CREATIVE CITY
The Creative City concept is a bold idea, embracing a range of initiatives and projects which, collectively, help make Grahamstown one of the most creative cities in the country. It pulls together a major alliance of institutions in Grahamstown - Festivals, tourism bodies, arts NGOs, educational and government entities - and harnesses their collective passion for creativity for the benefit of the City.
For more information visit http://www.creativecity.co.za/
Tourism
The City of Grahamstown together with the nearby towns of Alicedale and Riebeeck East and the quaint villages of Fort Brown, Salem, Seven Fountains and Sidbury make up the Makana Municipality in the Eastern Cape, South Africa.
This region also forms part of the popular Frontier Country route - so named because it was literally the 19th century frontier between the British Cape Colony and the Xhosa territories. It was the scene of first contact, cultural clashes, confusion and, inevitably, conflict. Much of what happened here set the tone for South Africa's turbulent multi-cultural history.
For more information visit www.grahamstown.co.za
Newspapers
Grahamstown is home to the oldest surviving independent newspaper in South Africa. Named the Grocott's Mail, it was founded in 1870 by the Grocott family, and bought out a pre-existing newspaper called the Grahamstown Journal, dating from 1831.
It is presently a local newspaper operated by the School of Journalism and Media Studies at Rhodes University, and still retains its name. Grocott's Mail's main competitor is a weekly free-sheet called Grahamstown This Week, owned by Johnnic Communications. As a major centre for journalism training, Grahamstown also hosts two student newspapers, Activate, established in 1947, and The Oppidan Press, a student initiative launched in 2007 that caters to the student population alienated by the existing student newspaper.
Below are a few links to local newspaper publications:
www.dispatch.co.za
www.peherald.com
www.grocotts.co.za
Below are a few links to government institutions:
National Government:
Eastern Cape Business:
Provincial Government:
Electoral Commission of South Africa:
South African Local Government Association:
District Municipality:
Local Municipalities under Cacadu District Municipality:
Religions
Makana/Grahamstown/Rhini is also known as the City of Saints.
Grahamstown has some 52 churches located in and around the city. it also has minority religious groups represented in Makana such as Hindu community, Jewish community and Muslim community.
Christianity
List of Churches in Grahamstown:
list of churches in grahamstown
Hinduism Religion:
www.hinduwebsite.com
Islam Religion:
www.islamreligion.com
Judaism Religion:
www.aish.com
Events
Contact Information
You can contact us on any of the details below or, else send your query to our customer care unit.

City Hall, High Str, Grahamstown, 6139
P.O Box 176 Grahamstown, 6140

+27 (0) 46 603 6111

+27 (0) 46 622 9488
Important Numbers
Ambulance:
10177
083 708 2928 / 046 622 9102
046 622 7976 (Medlife)
082 911 (NetCare 911)
Hospital:
046 622 4444 / 046 622 2923
080 111 444 (toll free)
Auto Breakdown:
046 622 3075 / 046 622 8238
Fraud and Corruption Hotline